Not your typical website design agency
Our web specialist goes deeper than aesthetics, we combine our web design creativity with user experience (UX), and digital marketing smarts.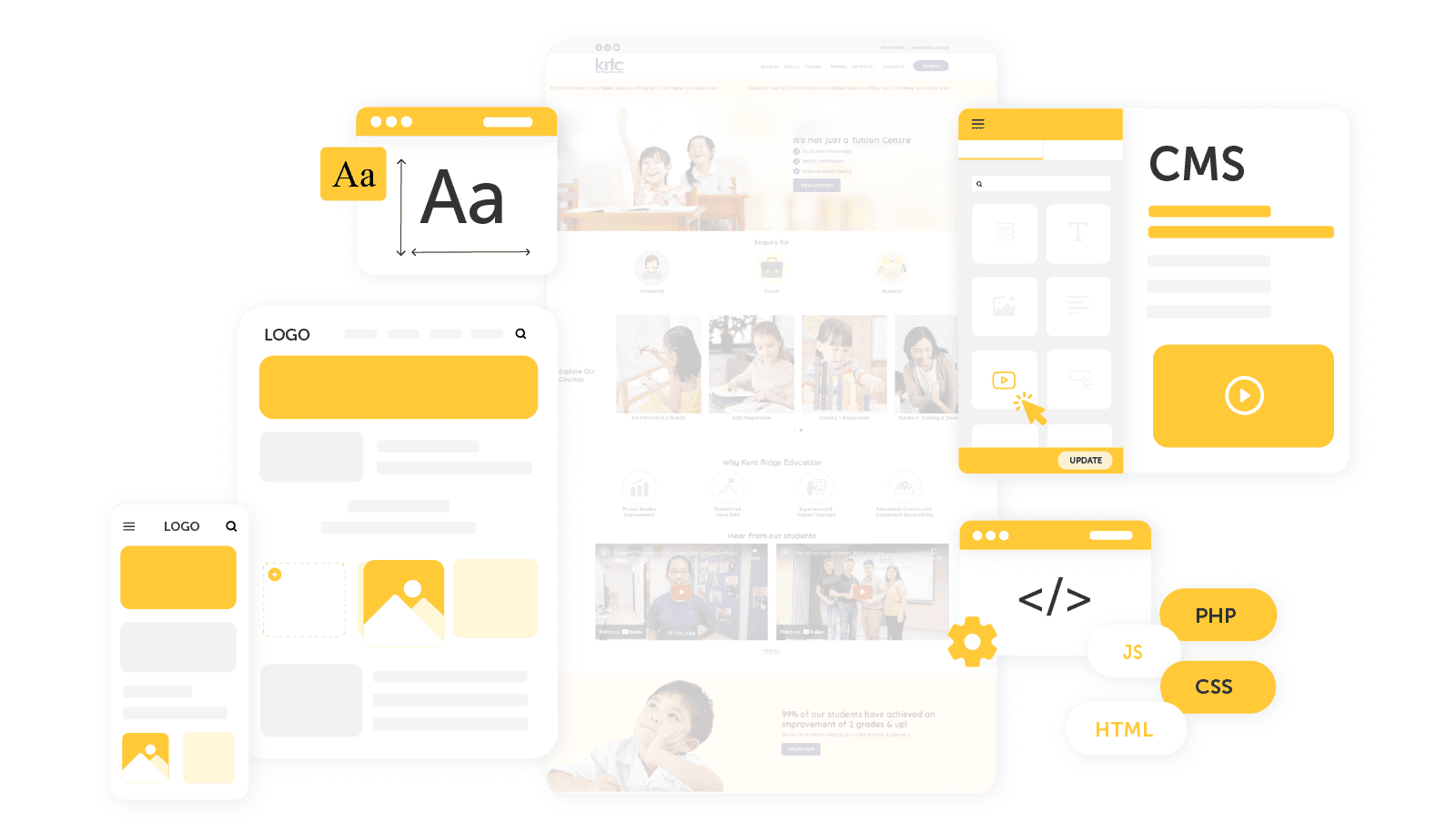 The website we design and build for you not only complements your existing branding and marketing, but also delivers maximum ROI on an ongoing basis.
Conversion Driven Web Design​
CMS websites, custom designs, landing pages and microsite. Web design aesthetics may vary but our ability to build websites that engage and convert visitors doesn't. This entails having an in-depth understanding of the principles that makes a website design conversion centered. Our goal here is to get people to take action on your landing pages. We do so by creating focus to outcompete any potential forms of communication noise.
Web User Experience (UX)
Our web design service specializes in building conversion-centered websites with a focus on providing a phenomenal consumer journey. Our designers prioritize the needs and pain points of the target audience and utilize elements that deliver an intuitive and usable website. This approach acts as a foundation for increasing website traffic, lowering bounce rates, and enhancing conversion rates.
WordPress Specialist​
We take pride in elevating businesses to thrive in the digital economy through creating and maintaining an effective online presence for them. As WordPress specialists, we offer expertise in developing integrated front and back-end systems and implement suitable themes and plugins such as e-commerce and social media integrations. This allows us to create tailored solutions whilst enhancing the functionality of your website respectively.
Having a single point of contact for the designing, marketing, scaling to the maintaining of your website reduces the probabilities of project failure.
Our team has 7+ years of web designing experience and have since then been awarded 10+ accreditations and accolades with 900+ satisfied clientele.
Strong Post-Deployment Support
We provide various support plans ranging from technical support and maintenance to web monitoring, security maintenance and much more through numerous support channels.
Well-Versed and Passionate Team
Great ideas come from anywhere. We are blessed with a diverse group of high-level designers and strategists that bring unique perspectives and innovative solutions to the table.
Your website is often your customers' first point of contact and touchpoint. Being able to portray your one-of-a-kind story through the website would enhance engagements and conversions.
The team at Pixel Mechanics provided great insights and advice on the design language and layout of the website. With the support from Pixel Mechanics, this has increased and improved our digital presence in this current climate.
Thank you Pixel Mechanics for designing a beautiful and informative website. After the launching of our clinic website, the business of our clinic is growing and improving. These are attributed to a group of very good staff behind the scenes of Pixel Mechanics, their credit is undeniable.
Pixel Mechanics designed our company's website and did a brilliant job. The team of web developers were responsive and very efficient. They worked with us closely to understand our business needs and provided timely advice. The end product met every aspect of our desired website.
Very impressed with the team, they are up to-date with the trends & offered practical advices. I am also pleased by the initiatives they took to understand my business & also competitors' websites / activities to come out with cool designs.